Long Son Pagoda Nha Trang
Long Son pagoda Nha Trang was built in 1886 on the top of Trai Thuy hill with the name of Dang Long Tu, Initially the pagoda was only a small house presided by monk Thich Ngo Chi. In 1900, after a strong typhoon collapsed completely, the pagoda's founder decided to move the pagoda to the foot of Trai Thuy Hill and renamed Long Son Pagoda as it is today. It was rebulit many times to the present architecture. Long Son Pagoda Nha Trang has become a famous pagoda, a wide range of influence in the spiritual life of the people and Khanh Hoa Buddhists.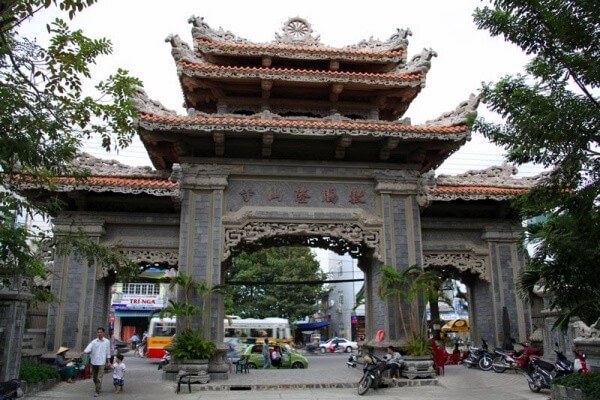 Long Son Pagoda in Nha Trang nowaday.
Located at 22, 23/10 Street, the whole view of the pagoda is very beautiful, very convenient for visitors to visit. The pagoda was built on a high, airy, lush green hillside, next to the road and crowded street. Temple grounds is 44.5 meters in width and 72 meters in length, the main hall is 1670 square meters with a capacity to accommodate hundreds of people to visit and pray. The statue of the Buddha at the main hall is casted in bronze, 1,6 meters high weighs 700 kg.
Visitors after burning incense will follow the road with more than 150 steps to the top of the hill where Buddha attends sitting sermon. On the 44th staircase, visitors will see the sight of Shakyamuni Buddha attaining nirvana. The statue is 20 meters long and 6 meters high, behind is a light blue stone wall with pictures of the 36 Arhat. Visiting the statue of Buddha Shakyamuni, you can rub your hand on hand of the Buddha this is a very interesting experience. In the middle of the hill, there is a bell tower with name Dai Hong Chung weighing 1,500 kg, the temple bell sound urge people to come to the peace and quietness, to remove all afflictions.
See the white Buddha statue
The sculpture was started in 1964 and completed in 1965 by the Thich Duc Minh and sculptor Phuc Dien.  From the ground up, the statues is 24 m, and from the base of the statue, it is 21 m, the lotus is 7 meters high and diameter is 10 meters. Around the statue are statues of seven arahants sacrificed to protect Buddhism under the Ngo Dinh Diem regime. In front of the statue are a pair of dragons, which are 7.20 m long. The statue is visible from afar as one enters the city, from either the national highway or by train
For a long time, the image of Long Son Pagoda in Nha Trang with the statue of Buddha on the top of Thuy Thuy hill has been deeply imprinted in the minds of the people and visitors to the country, those who have the good hearts are good enough to see the precious things here.