Nha Trang Motorbike Rental
Nha Trang motorbike rental for only 90,000/days, 24 hours for a day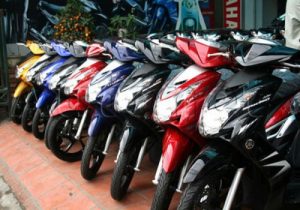 Nha Trang motorbike rental price
– Motorbike Not automatic: Honda RS, RSX, Yamaha, Jupiter, Sirious, Future ….
VND 90,000 ≅ 4USD / day (24 hours)
– Automatic Motorbike: Nouvo, Atila,
VND 100,000 ≅ 5USD/ day (24 hours)
VND 120.000 Airblade Motorbike/day (24 hours)
+ Duration: 1 day is 24 hours
– Example: 7:00 today to 7:00 the next day is counted as 1 day
15:00 today to 15:00 tomorrow is counted as 1 day
According to the experience of people who have rented motorbikes in Nha Trang, the cost will be reduced when you select this type of vehicle.
        +  When starting to rent a motorcycle, you must ask the lessor to give you a free map. Nha Trang travel is very convenient, Just go to Tran Phu street to be able to locate the direction, not afraid of losing your way.
        + Can go to almost all tourist destinations in Nha Trang by motorbike: Ponagar Tower, Hon Chong promontory,Long Son Pagoda, Nha Trang cathedral, Mud Bath I-resort , Vinpearl Land, Monkey Island, Yang Bay waterfall, Ba Ho waterfall…
        + Riding a motorbike go to eat is never afraid of expensive, a lot of food you can choice. If street food expensive you can go to other places, not like taxi they carry you to the restaurant to get the commission so the price will be higher.
Immage of Nha Trang motorbike rental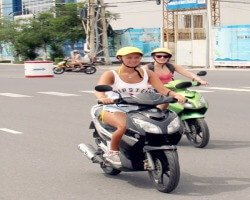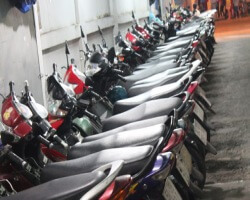 Nha Trang motorbike rental there are things to remember
– Article 1: 1 day with not auto motorbkie 90,000 vnd, automatic motorbike 100,000vnd.
– Article 2: Rental time is 24 hours (for example: from 8am today to 8am tomorrow)
– Article 3: We will deliver and pick up motorbike at your hotel
– Article 4: We're hold your original passport or  in the case you do not bring Passport with you we will hold your Identify Card + Deposit (120USD), will return when you return motorbike.
And you are going to get 1Free City Map and Get -10% Coupons Of Mud Bath
Note when participating in traffic:
+ Obey the traffic laws of Vietnam, go right side of the road.
+ Always wear helmet when you drive
+ Stop at Red light Traffics
+ One way road: Hung Vuong str, Nguyen Thien Thuat str, Biet Thu str, Tran Quang Khai str, Tue Tinh str, Ngo Gia Tu str, Hoang Van Thu str.
+ Lock motorbike carefully, parking in the right place
+ No drunk while drive the motorbike
Contact us at:
Sent us a message through chat box on the right hand below and check your email later
Email: 123tourdulichnhatrang@gmail.com
WhatsApp/Zalo/ Viber: +84964171621
Pleasure to serve you!