About Water Puppet Show Nha Trang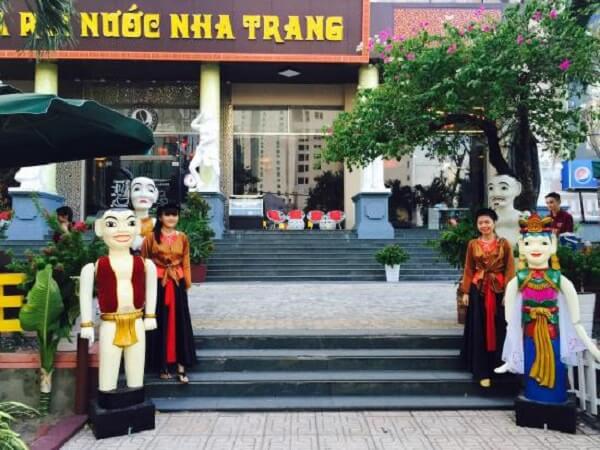 Water puppet theater is a highlight of cultural life in Nha Trang. The theater has become a popular tourist destination, especially for international visitors and children
Water puppetry is a unique folk art of the Vietnamese
Water puppet show has appeared for long time ago, Sung Thien Dien Linh headstone, built on Đọi pagoda Duy Tien district, Ha Nam province in 1121 (Ly dynasty) recorded: Water puppet show was performed during the King's Birthday celebration, water puppetry art was born from the Red River delta, reflecting the realities of the life of Vietnamese farmers. It is a spiritual dish, the pride of Vietnamese people.
HKL Trading & Service Company Limited has opened the Nha Trang Water Puppet Theater at 46 Tran Phu Convention Center (Nha Trang) in November 2014. Nha Trang Water Puppetry Center has introduced many traditional water puppet shows including the most outstanding games, the most interesting selective from over 400 puppetry games of Viet nam.The program is elaborated quite elaborately.
– Fairy Dance: Dance related to Dragon – Fairy, Father Lac Long Quan married mother Au Co.
– Champa dace: associated with the multi-religious life of Cham people, mountains, rivers, estuaries, trees… they are considered to have souls, can bless or can threaten human life.
– 4 sacred animals dance: (Dragon-unicorn-Turtle-Bird) The convergence of four legendary animals, they are sacred symbols in temples and shrines Viet Nam.
– Legend of King Le Loi returns sword in Hoan Kiem Lake: The story of the hero Le Loi revolt against the invaders, the gods give him sword, After defeating the enemy, the King cruised on the lake, Turtle god show up to get back the sword, after that the lake named Hoan Kiem.
– Tễu MC – turn flag : "Chú Tễu" is the name of a puppet shows a picture of a poor, healthy, humorous farmer who is also a master of ceremonies of the show and friend of poor people.
Fishes swimming flexible in the water; A couple fishing on a small boat; a farmer shoveling shrimp; a guy who is playfully teasing the girl is a vivid picture of the work of the people of the river.
Operation time and entrance fee of Water Puppet Show Nha Trang
Operation time: 16h:00 – 16h:45
19h:00 – 19h:45
20h:30 – 21h:15
Ticket Price : Adult: 170.000 VND
Child: 120.000 VND